Winter Break Letter to Families
Posted December 14, 2022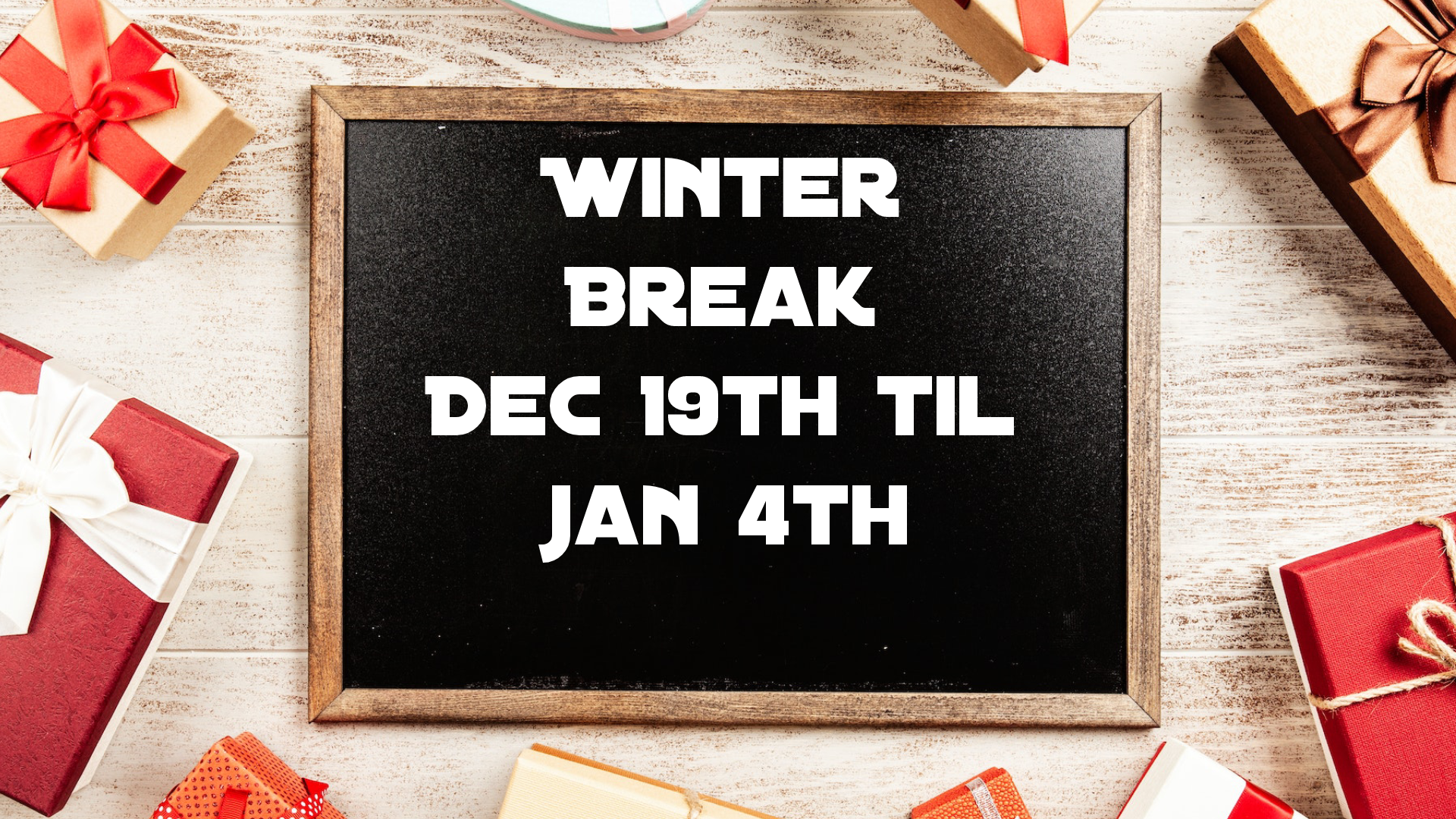 Dear MCT Families,
During the December 19th – January 3rd winter break from school, we are grateful to everyone for helping to restore a routine for showing up to school while supporting students and families.
We appreciate everyone's efforts to avoid taking extra time off during the winter break. As long as your child is healthy, please encourage showing up to class when school is in session. Every day of school is an important opportunity for students to learn as well as to connect to their peers and teachers.
We thank:
● Our students and their families who do their best to show up daily even when it isn't easy.
● Our teachers who go above and beyond to make school a welcoming and safe place for all students to learn.
● Our administrators who help us work together to ensure we create a physically and emotionally safe and engaging learning environment.
● The support staff and community who provide the extra hands and attention our students need.
We appreciate each one of you. May these days off be restful and healing. If your family or your child needs support, please reach out to the MCT Social Worker – Renee Paxton (Interim)/Sanice Rhea for help (720-423-7200). We have also attached a list of community resources.
We look forward to seeing you again when school resumes on January 4th, 2023. Thank you for partnering with us!
Sincerely,
Arnetta Koger
Principal – Montbello Career and Technical High School
Resources
Mile High United Way – 211 Help Center: 211 is a multilingual and confidential service that connects individuals to critical resources including food, shelter, rental assistance, childcare, and more. Dial three simple numbers, 2-1-1, to reach Mile High United Way's 211 Help Center, or text your zip code to 898-211. You can also search for resources online: https://unitedwaydenver.org/community-programs/2-1-1/ or live chat with one of our Resource Navigators.
Hunger Free Colorado – Food Resource Hotline:
Need help buying groceries? Call 855-855-4626 or search online: https://hungerfreecolorado.org
Denver Department of Housing Stability – Temporary Rent and Utility Assistance (TRUA):
Are you struggling to pay your rent, mortgage, or utilities? Are you worried about staying in your home? You're not alone and it's not your fault— one in three households in Denver is paying more than a third of their income toward housing. The Denver Department of Housing Stability is here to help you get the assistance you deserve. We have FREE programs to help you with paying rent, utilities, and more. Documentation status and landlord participation are not requirements for most programs.To apply, call 311 and press 6 and you will be connected with a nonprofit agency providing rent and utility assistance. Denvergov:TRUA
Colorado Crisis Services https://coloradocrisisservices.org
No matter what you're going through, you don't have to go through it alone. If you or someone you know wants to talk about any mental health, substance use or emotional concern, Colorado Crisis Services can help, 24/7/365. Just call 844-493-TALK (8255), or text TALK to 38255, and you'll be connected with a trained professional who will provide free, confidential support, and who can connect you to further resources if needed. Coloradans reached out to Colorado Crisis Services more than 227,000 times last year. No matter your issue or circumstance, this service is for you. For more information, visit
ColoradoCrisisServices.org
I Matter https://imattercolorado.org
The I Matter program can connect you with a therapist for up to 6 free virtual counseling sessions (some in-person appointments available, too) that are completely confidential. Talking with someone can make you feel better.  Parents, seeking support for your child is not a sign of failure—it's a sign of strength. 
Spanish
Estimadas familias de MCT,
Durante las vacaciones de invierno de la escuela del 19 de diciembre al 3 de enero, estamos agradecidos con todos por ayudar a restablecer la rutina de asistir a la escuela y apoyar a los estudiantes y las familias.
Agradecemos los esfuerzos de todos para evitar tomar tiempo libre adicional durante las vacaciones de invierno. Mientras su hijo esté saludable, anime a asistir a clase cuando la escuela esté en sesión. Cada día de clases es una oportunidad importante para que los estudiantes aprendan y se conecten con sus compañeros y maestros.
Nosotros agradecemos:
● Nuestros estudiantes y sus familias que hacen todo lo posible para presentarse todos los días, incluso cuando no es fácil.
● Nuestros maestros que van más allá para hacer de la escuela un lugar acogedor y seguro para que todos los estudiantes aprendan.
● Nuestros administradores que nos ayudan a trabajar juntos para garantizar que creemos un entorno de aprendizaje seguro y atractivo física y emocionalmente.
● El personal de apoyo y la comunidad que brindan las manos adicionales y la atención que necesitan nuestros estudiantes.
Agradecemos a cada uno de ustedes. Que estos días de descanso sean de descanso y sanación. Si su familia o su hijo necesitan apoyo, comuníquese con la trabajadora social de MCT, Renee Paxton (interina)/Sanice Rhea para obtener ayuda (720-423-7200). También hemos adjuntado una lista de recursos comunitarios.
Esperamos verlo nuevamente cuando se reanuden las clases el 4 de enero de 2023. ¡Gracias por asociarse con nosotros!
Sinceramente,
Arnetta Koger
Director – Montbello Career and Technical High School
Mile High United Way – Centro de ayuda 211: 211 es un servicio multilingüe y confidencial que conecta a las personas con recursos críticos que incluyen alimentos, vivienda, asistencia para el alquiler, cuidado de niños y más. Marque tres números simples, 2-1-1, para comunicarse con el Centro de ayuda 211 de Mile High United Way, o envíe un mensaje de texto con su código postal al 898-211. También puede buscar recursos en línea: https://unitedwaydenver.org/community-programs/2-1-1/ o chatear en vivo con uno de nuestros navegadores de recursos.
Colorado libre de hambre – Línea directa de recursos alimentarios:
¿Necesita ayuda para comprar comestibles? Llame al 855-855-4626 o busque en línea: https://hungerfreecolorado.org
Departamento de Estabilidad de Vivienda de Denver – Asistencia Temporal de Renta y Servicios Públicos (TRUA):
¿Tiene dificultades para pagar el alquiler, la hipoteca o los servicios públicos? ¿Te preocupa quedarte en tu casa? No está solo y no es su culpa: uno de cada tres hogares en Denver está pagando más de un tercio de sus ingresos en vivienda. El Departamento de Estabilidad de la Vivienda de Denver está aquí para ayudarlo a obtener la asistencia que se merece. Tenemos programas GRATUITOS para ayudarlo a pagar el alquiler, los servicios públicos y más. El estado de la documentación y la participación del propietario no son requisitos para la mayoría de los programas. Para presentar una solicitud, llame al 311 y presione 6 y lo conectarán con una agencia sin fines de lucro que brinda asistencia con el alquiler y los servicios públicos.
Servicios de Crisis de Colorado https://coloradocrisisservices.org
No importa por lo que estés pasando, no tienes que pasar por eso solo. Si usted o alguien que conoce quiere hablar sobre cualquier problema de salud mental, uso de sustancias o emocional, Colorado Crisis Services puede ayudar, 24/7/365. Simplemente llame al 844-493-TALK (8255), o envíe un mensaje de texto con la palabra TALK al 38255, y lo conectarán con un profesional capacitado que le brindará asistencia gratuita y confidencial, y que puede conectarlo con más recursos si es necesario. Los habitantes de Colorado contactaron a Colorado Crisis Services más de 227,000 veces el año pasado. No importa cuál sea su problema o circunstancia, este servicio es para usted. Para más información visite
ColoradoCrisisServices.org
Yo Importo https://imattercolorado.org
El programa I Matter puede conectarlo con un terapeuta para hasta 6 sesiones de asesoramiento virtual gratuitas (también hay algunas citas en persona disponibles) que son completamente confidenciales. Hablar con alguien puede hacerte sentir mejor. Padres, buscar apoyo para su hijo no es una señal de fracaso, es una señal de fortaleza.